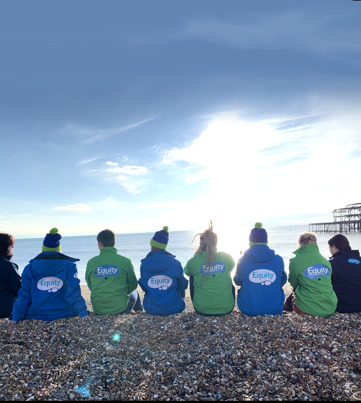 We boast a fantastic, efficient and friendly team at our Head Office just a short walk from the beach in Brighton.  There are many perks of working for Equity, including our fantastic work culture and access to a variety of travel discounts. 
We're always looking for talented people to join us in the following areas, so whether you're a fantastic Sales person, a Marketing genius or a Finance superstar, we'd love to hear from you!
What we offer
Joining our team means being part of a dedicated community that is passionate about creating life-changing trips for the schools we work with. From the moment you start, you'll receive the support you need to help you thrive in the world of school travel, as we consider your success integral to our own.
We'll feed your brain and encourage participation in training sessions, talks and events, which we frequently take part in to give us a fresh perspective on our latest destinations, update us on sustainable travel breakthroughs, or simply keep up-to-date with the latest in industry.
When you work at Equity, you'll also receive plenty of other benefits, including the opportunity to travel and experience our products overseas, time off on your birthday, a holiday salary exchange scheme, and learning and development days to broaden your own experience and education.
We're a sociable bunch and organise regular get-togethers. In fact, our people consistently say that the thing they love most about Equity is the people that they collaborate with.
To help inspire the minds of tomorrow, we need a group of brilliant minds today. If you share our philosophy and are passionate about travel, why not take a look at our current roles below. We offer school travel jobs based either in our Brighton head office or remotely.
We believe that learning outside the classroom is an essential part of education.
What we do
We work with over 1,000 groups and 50,000 young people each year, our dedicated team supporting teachers to motivate and engage their pupils outside of the classroom.
We do this by offering an exciting and innovative range of cultural, sporting and educational experiences, encouraging active learning among groups to over 289 destinations across 49 different countries.
Creating great experiences for our customers is our number one priority, as it has been for more than 85 years. Through the personal touch we add to every booking, our talented team takes pride in being able to share little-known secrets and must-see attractions with party leaders, picked up from their own first-hand experiences on location.
"Our people genuinely care about, and have a passion for, creating great experiences for our customers. The fact that everyone is happy to help each other solve problems gives Equity a great collaborative spirit, where everyone is in it together." - Sharon