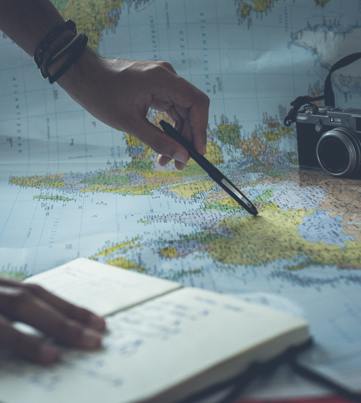 School trips and educational visits are hugely beneficial teaching tools that help students develop social, personal, and emotional skills. Taking a school trip abroad can be a fun and rewarding experience, not to mention a great opportunity for your students to enhance their knowledge outside the classroom.
However, we know planning a school trip can be a challenge. As the party leader, you're put under an immense amount of responsibility, and the list of tasks you need to complete can be seemingly endless. From planning to payments, and everything in between. 
At Equity, we want school travel to be seamless and enjoyable – for everyone involved – which is why we've compiled this handy guide to planning your first school trip. Read on and refer back to this blog as a checklist, to assist you from the earliest planning stages all the way through to your departure date.
01
Set a timeline
There's a lot to consider when you're planning a school trip for your students! From initial promotion and making sure all those slots are filled, to making first deposits and final payments, you should set aside plenty of time to make sure all of this is feasible alongside your usual workload.
Most trips can be planned in 6-12 months, giving you plenty of time to make any deadlines you set for the trip while your hotel and flights are still available. However, for longer, further flung or pricier trips, setting aside 18 months to two years will help relieve the pressure for everyone. Not only will this make the entire process less stressful for you, it also gives parents more time to save for the trip.
02
Outline your objectives
To help you manoeuvre the many decisions you'll be faced with in the early stages of planning a school trip, we recommend writing down your tour objectives and using these as a central reference point during the process. Your tour objectives should be focused on what you want your school travel experience to deliver. Do you want your students to develop a broader understanding of a key area of the curriculum? Are there cross-curricular opportunities that you think your group would benefit from?
Once you've ascertained what your trip objectives are, pass these on to your shortlist of tour operators, who will know their destinations inside out and be able to recommend locations, excursions, and activities to help your trip achieve its objectives.
03
Estimate your budget
One of the largest considerations you'll have to make, your budget will have a huge impact on the tour you're able to deliver to your students. Make it too big, and you may have a brilliant trip, but you'll also risk alienating some students who can't afford such an extravagant experience. Make it too small, however, and you'll leave little room for the excursions you'll want for making an exciting, engaging itinerary.
As a general rule of thumb, we suggest considering the going rate for the trip you have in mind, then budgeting a little extra per student to account for any additional excursions or treats.
04
Get the headteacher's sign off
To make sure your trip goes ahead, you'll need the final approval from your headteacher or SLT team. We've put together a template for a letter to the headteacher to help make sure this doesn't add more admin time to your planning.
05
Speak to your Account Manager
Your objectives are laid out, and you're well on your way to mapping out your trip. It is now a good time to talk to a tour operator. We'd recommend seeking out accreditations in the travel and school travel industries, such as ABTA, ATOL, and Learning Outside the Classroom. Account Managers are a great source of information and can advise based on a wealth of experience and knowledge of how school trips work. Your Account Manager will put together an itinerary based on your requirements and provide you with a cost per passenger.
06
Review your options
When comparing tour quotes from different providers, it's important to look beyond the price you're given at face value. Instead, make yourself aware of what your quote includes – is everything on your itinerary covered? Meals, local transport, guides, entrance fees, taxes, and tips can all add up, making your school trip cost more than you're initially led to believe.
07
Promote your trip
After all this planning, the last thing you'll want is for your school trip to fail to get off the ground. To effectively encourage students and secure sign-ups, you'll want to create a bit of a buzz around your plans. Popular methods used by our schools include a presentation and/or promotional video in assemblies, posters around the school, and handouts for students to take home. Equity Account Managers have poster templates and can be available for parents evenings.
08
Collect group information to your tour provider & deliver deposits
With all the practical planning passed, it's now time to collate the travel information of your group and make sure everything is in place for your trip. Spreadsheets, or shared databases like our Travel Manager, are a particularly useful way to collect your students' passport details, and can function as a checklist for keeping track of information given, payments made, and visa checks.
Speaking of visas, now is the time to make sure everyone has everything they need to travel! Ensuring both the visas and your students' passports are valid for the duration of your journey – and apply to each child's nationality – will avoid any upset at the airport, and make sure your trip goes without a hitch. Remember that some destinations require six months' validity after the duration of your stay.
Once the deposits are taken the tour operator can start booking all the elements of your trip, it is worth noting there can be changes to the itinerary at this stage due to availability.
09
Parent communication
For many children, this may be the first time they've gone on holiday away from their families. They'll likely be feeling nervous – and their parents will too!  A  parents evening to share details regarding accommodation and itinerary details will offer reassurance. 
Many schools also opt for a dedicated social media page to update with photos and videos while travelling, which we know parents really appreciate.
10
Depart on your trip, and have a great time!
The moment you've all been waiting for, it's now time to depart on your school trip. Check in with your tour provider to collect entrance tickets, local transport tickets and any other paperwork you may need (or keep your travel packs to hand, if your tour operator has already provided them), and have a fantastic time!
Rest assured, you're ready to go!
We're hopeful that our school travel guide has left you reassured and relaxed about the planning of your next trip, safe in the knowledge you have a handy reference to look back on when needed.
The experience of our party leaders is incredibly important to us here at Equity, and we consider it our role to support you in creating an unforgettable and enriching school trip for your students! From your very first enquiry to your return home, you can trust that our team is available to support and guide you each step of the way.
To discuss your school travel plans further, don't hesitate to get in touch with our team. You can fill out our webform, and our school travel experts will get back to you as soon as we can.