With its enchanting landscapes and rich cultural tapestry, Italy is not just a destination for history enthusiasts and food connoisseurs. Courtesy of the majestic embrace of the Alps, northern Italy offers a winter wonderland that beckons school groups to embark on an exhilarating skiing adventure.
We love hosting school ski trips in Italy, and we think you'll agree it's a fantastic destination to take your students. Read on to discover what we believe makes Italy an excellent ski destination for school groups. From the charming Spiazzi to the slopes of Sestriere, let's traverse the diverse ski resorts that make Italy a perfect haven for both seasoned skiers and eager novices alike.
What sets skiing in Italy apart from anywhere else in Europe/North America?
1. Glorious weather
It's well-known that the weather in Europe can be challenging in the winter months, which isn't always ideal for skiing! However, thanks to its favourable geography, Italy benefits from mostly sunny days and temperatures only a few degrees below zero – even up in the mountains – while retaining a solid ski season from December to April.
2. Incredible resorts
Italy's skiing infrastructure is incredible, and features modern and well-maintained resorts with efficient cable cars, chair lifts, and a large number of slopes. Speaking of these, Italian ski runs are known for their width, and cater to all skill levels, from beginners to experienced skiers. Night skiing is also a unique offering at several resorts, with some trails lit until 10.30p.m.
3. Unparalleled scenery
Regarded by some as the most beautiful mountains around the world, the Italian Dolomites offer breathtaking high-mountain scenery for your school group that'll have them talking about their trip for years to come. Snowy peaks, unique Alpine flora and fauna, and the opportunity to witness unforgettable sunrises contribute to the allure of the Italian Alps.
4. Top-notch cuisine
Italy's cuisine really needs no introduction, but there's nothing like a delicious slice of pizza or a bowl of pasta to help skiers refuel after a long day on the slopes. From cured hams and a variety of cheeses to fresh seafood and local delicacies, Italian ski resorts offer a gastronomic delight that may be hard to match elsewhere.
Ski resorts in Italy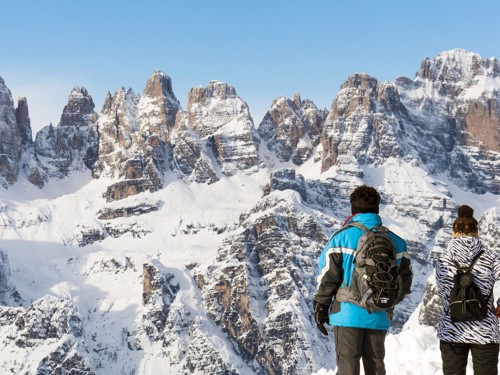 School ski trips to Andalo
Perfectly located within a charming Italian village overlooking Lake Garda, Andalo's setting gets school ski groups excited from the get-go. With its rich mountain heritage and stacks of traditional charm, your students will love the opportunity to immerse themselves in Italian culture, while the slopes offer loads of space for speeding above the tree line. After an exciting day on the mountain, it's time to refuel with big bowls of spaghetti before going ice-skating at the ice rink or swimming at the local centre.



School ski trips to Aprica
Welcoming and well-equipped, Aprica's compact resort is a popular option for schools who enjoy its friendliness and excellent snow cover, the distance to the lifts is 150 metres but groups can take the free ski bus. Skis only are stored by the nursery area. North-facing slopes are surrounded by national parks offering that all-important view, while an extensive lift network makes getting around on ski days easier. Aprica boasts the longest illuminated piste in Europe, so night-skiing is also an option, but there's plenty to do off the slopes too, with a modern sports centre for swimming and a floodlit ice-rink for skating beneath the stars.



School ski trips to Bardonecchia
Look forward to world-class ski facilities and more when you book a ski trip to Bardonecchia – a host resort in the 2006 Winter Olympics. Lift queues are rare in this mixed-ability resort, which has a first-rate ski school making it an exceptional choice for any school ski group. This welcoming resort sits near the French border in the stunning Susa Valley and has a friendly old quarter, where students can treat themselves with souvenirs and traditional goods from the local shops.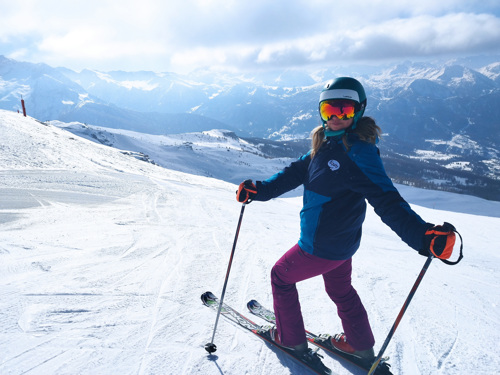 School ski trips to Claviere
One of our most popular school ski destinations, Claviere offers excellent skiing throughout the season inside a safe, quiet environment. Groups really enjoy experiencing both French and Italian cultures within this trip, courtesy of an opportunity (conditions depending) to spend two days skiing in the neighbouring French resort of Montgenèvre.

School ski trips to Folgaria
Situated on a sunny plateau above the Trentino valley, Folgaria is a well-established resort and an ideal location for school groups. With its authentic Italian ambience, Folgaria offers your group a fantastic ski experience, enriched with local culture. This resort shares its ski area with several smaller villages offering extensive terrain for mixed abilities. Snow quality is excellent too, with the resort boasting great snowmaking, top-notch piste grooming, and tree-lined runs.




School ski trips to Folgarida
Folgarida offers everything for a great school ski trip – a large ski area, good lifts, terrific scenery, superb hotels and friendly people. We think it's one of the best ski circuits in Europe, and our groups love the large, combined ski area and genuinely friendly locals, who create a welcoming atmosphere in town. A purpose-built resort, Folgarida's shops, bars, and après-ski amenities are all on hand.



School ski trips to Sestriere
The Italian Alps' first purpose-built resort, Sestriere's slopes sit just above the tree line and are part of the enormous Milky Way ski circuit. Our school groups love the great location, huge choice of ski areas and laid-back atmosphere in the village, which has a cosmopolitan feel and great pastry shops. When the ski lifts close for the day, there's plenty going on with après-ski activities, from skidoo rides to the neighbouring resort of Claviere to ice skating on an outdoor rink and evening discos in a mountain-style venue.




School ski trips to Spiazzi
We can't think of many places more suitable for beginner groups than the purpose-built resort of Spiazzi, which offers easy and excellent progression on a range of long, gentle slopes. As well as being ideal for beginners or younger skiers, Spiazzi has a safe and traffic-free village, making supervision easy. By evening, groups can enjoy ice-skating, pizza evenings or a range of in-house activities, including games nights, quizzes, and a disco.



School ski trips to Tonale
Set on the Presena Glacier, Tonale has an exceptional snow record, which makes it a great choice for snow surety throughout the winter period and into early spring. It's one of Italy's highest resorts, which adds stunning scenery to its expansive lift network and brilliant runs that trail above the tree line. Purpose-built for ski groups, the resort town also has a lively feel, with everything you need for evening entertainment on hand.



Ready to book your school ski trip to Italy?
Italy's ski resorts cater to the diverse needs and preferences of school groups, whether it's the excitement of Olympic history, the versatility of the Dolomites, or the international adventures on the French border. Each group of resorts presents a unique blend of adventure, culture, and natural beauty, ensuring an unforgettable skiing experience for students and teachers alike.
To find out more about our school ski trips to Italy, or enquire about booking a trip to a specific resort, please call us on 01273 648248. You can also fill out our webform, and our school ski experts will get back to you as soon as we can.