A city of immense diversity and opportunities, Barcelona is an unparalleled option for a school trip, with an abundance of excursions that cover a broad range of subjects and curricula, such as Parc Güell (art), La Boqueria (food technology), CosmoCaixa (science) and many more.
With so many activities to choose from, organising a school trip to Barcelona may seem like a challenging task – but it doesn't have to be.
In this blog, we aim to provide you with the tools you need to meticulously plan your itinerary and budget. We'll delve into the myriad learning objectives that can be achieved in the city, offer suggestions for cost-effective activities to enhance your schedule, and outline the everyday expenses you can anticipate. Prepare to embark on an educational journey through the vibrant city of Barcelona with our comprehensive guide to an outstanding school trip experience.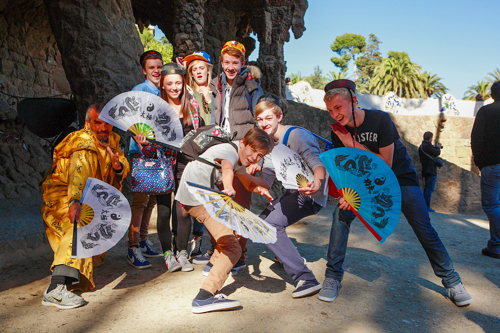 Learning objectives covered by a Barcelona school trip
Art & design
Barcelona exudes a captivating charm through its architecture, galleries, and streets, making it a top choice for art and design school trips. The city boasts an abundance of Surrealist and Modernist art, harmoniously coexisting with traditional Catalan expressions and a remarkable collection of Antoni Gaudí's distinctive architecture. Beyond exploring the vibrant mosaic structures at Parc Güell, a journey through Barcelona's diverse art galleries promises to ignite your group's creative spirit, providing them with newfound inspiration for their future classroom projects.
Food technology
Known for its Catalan culinary traditions and rich culture, Barcelona provides an ideal setting for your students to enhance their culinary skills. Through expert cooking workshops, they will discover the impact using all five senses can have on refining their culinary abilities as they navigate recipes and deepen their comprehension of taste, aroma, colour, and textures. A trip to the renowned La Boquería food market will introduce your group to an array of novel flavours, further inspiring their culinary journey.
Spanish language
Challenge your students' Spanish language proficiency with an immersive language and culture adventure in Barcelona. Despite the distinct differences between Catalan and Spanish, students will encounter signage and menus in both languages, providing ample opportunities to enrich their vocabulary. Excursions to attractions like Waterworld, PortAventura, and the Dali Museum offer your group valuable occasions to engage in conversations, while iconic destinations such as Barcelona FC's Camp Nou and Parc Güell add an extra layer of cultural intrigue to their experience in the city.
STEM
Barcelona, a city teeming with vitality and numerous mathematical opportunities, makes for an excellent destination for a school STEM tour. Explore the intricate relationship between nature and geometry within the city's Modernist architecture, delving into Gaudi's innovative transformations, geometric shapes, and the advantages of his distinctive parabolic arch design. Engaging excursions tailored to mathematics enthusiasts involve visits to the Olympic Park, where your group can analyse mathematical curves and their functions while gaining insights into the seating capacity during a behind-the-scenes tour of Camp Nou stadium.
Travel & tourism
Barcelona offers a diverse experience for students on a travel and tourism trip, which encompasses art, architecture, sports, cuisine, music, and a stunning Mediterranean coastline. Popular excursions such as PortAventura, Camp Nou Stadium, and Montjuïc are just the beginning, as Catalonia's capital has a wealth of inspiring attractions to engage your group.
Enrichment
A city of remarkable style, cultural uniqueness, and cosmopolitan allure, Barcelona radiates charisma through its architecture, galleries, and streets – there's little wonder it holds a special place among our preferred destinations for inspiring students. Within its rich tapestry of surrealist and modernist art, you'll also discover the city's fervour for sports and exceptional Catalan cuisine, all set against the backdrop of the Mediterranean coastline.
Performing arts
Performing arts groups are in for a taste of the showbiz world with a visit to Barcelona, renowned as one of Spain's most stylistically dynamic and culturally rich cities. These groups will have the chance to witness the street performers along La Rambla and enjoy an authentic Flamenco performance. Following these captivating experiences, they will engage in a series of workshops that will enable them to express their artistic visions, providing them with a lifelong learning experience to cherish.

Free things to do in Barcelona for schools
Barcelona offers several free attractions and activities that can be enjoyed by school groups on a budget. Here are some options:
Barri Gòtic (Gothic Quarter)
Explore the historic heart of Barcelona with its narrow streets, medieval buildings, and charming squares like Plaça Reial. It's a great place for a walking tour to learn about the city's history and architecture.
La Rambla
Stroll down this famous boulevard, watch street performers, soak in the lively atmosphere, and buy souvenirs – La Rambla is an unmissable part of any Barcelona trip.
Beaches
Barcelona has several beautiful beaches, including Barceloneta Beach. H
ere, students can relax, swim, or even play beach volleyball.
Montjuïc
Explore Montjuïc Hill, home to the Montjuïc Castle. While the castle may require an entrance fee, the hill itself offers panoramic views of the city, beautiful gardens, and the Olympic Ring.
Magic Fountain of Montjuïc
In the evenings, the Magic Fountain hosts free light and music shows – the perfect way to end a busy day of learning!
Parc de la Ciutadella
This park is not only a relaxing green space but also home to attractions like the Barcelona Zoo and the Catalan Parliament building.
Mercat de la Boqueria
Visit this bustling food market near La Rambla to experience the vibrant Catalan food culture. Of course, you'll have to pay for the food itself, but browsing and getting a sense of the delicacies available in the market – many of which will be new to your students – is worth its weight in gold.
Street art
Barcelona has a thriving street art scene, with impressive murals dotted all the way across the city. Take your students on a street art tour to appreciate the city's urban art culture.
Free museums
Some museums in Barcelona offer free admission on certain days or times, like the Picasso Museum and the Barcelona History Museum. Check their websites for details.

How much do every day items cost in Barcelona (2023)?
Single metro ticket (AB zone): €2.40
Coffee: €2.25
Burger and fries in a fast food restaurant: €9
Empanada: €2.50
Paella portion: €15-25
Ready to book your school trip to Barcelona?
Barcelona school trips provide a wide range of educational possibilities, spanning art, design, history, classics, and religious studies, promising to leave a profound and enduring impression on your students. This lively Catalan city also caters to various budgets, offering numerous free attractions that complement its paid attractions – allowing your group to explore the city in greater detail.
To find out more about our school trips to Barcelona, or enquire about booking a school trip, please call us on 01273 648248. You can also fill out our webform, and our school trip experts will get back to you as soon as we can.