Designed to ignite teamwork and problem-solving abilities among your students, our watersports school trips combine aquatic adventures with educational elements to ultimately provide your group with essential life skills, marine appreciation, and a boatload of fun!
From the picturesque shores of Cornwall to the breathtaking Ardèche region and the sun-soaked beaches of Platja d'Aro, each of these school watersports destinations promise an unforgettable experience that combines learning with pure adrenaline – the perfect recipe for a successful reward, milestone, or enrichment trip.
Dive into the details below and discover which of our watersports trip is best suited to your school's needs. Whether you're bound by budget, the age of your pupils, or trip duration, we may have just the trip for you.
Watersports school trips to Cornwall, where sea meets skill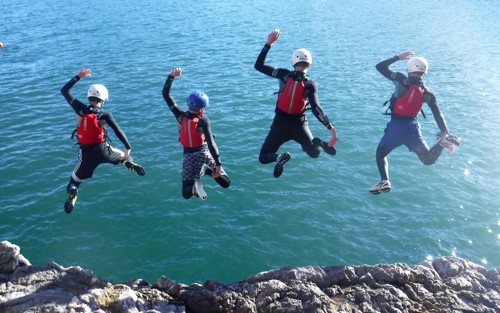 Recommended age group: itinerary can be adapted for 10–18 year olds

Trip duration: 5 days, 4 nights

Price: please enquire

With its rugged coastline and pristine waters, Cornwall offers the ideal setting for a watersports school trip. Our partnership with local experts ensures that students receive top-notch instruction in any and all activities while they're away, ranging from surfing and kayaking to the exhilarating world of coasteering.
Beyond this trip's adrenaline-pumping experiences, its educational facet delves into marine biology and environmental science, fostering a deep connection with coastal ecosystems. As students conquer the waves, they simultaneously unravel the mysteries of the sea, making Cornwall an unparalleled destination for schools seeking a perfect blend of adventure and education.
Our tailored itinerary ensures a perfect blend of adventure and learning, making Cornwall a top choice for schools seeking a low-travel coastal escape.
Watersports school trips to Platja d'Aro; sun, sand and sports on the Costa Brava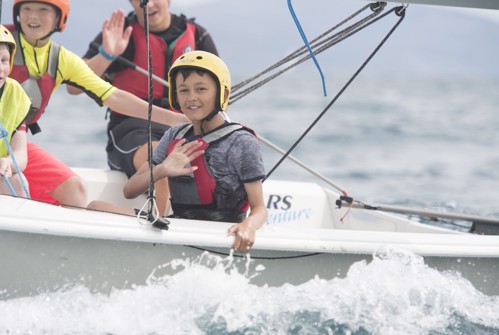 Recommended age group: itinerary can be adapted for 10–18 year olds

Trip duration: 5 days, 4 nights (air) OR 7 days, 4 nights (coach – includes 2 days of travel)

Price: from £850pp
Nestled on the sun-kissed shores of the Costa Brava, Platja d'Aro invites students to an aquatic playground where the Mediterranean's azure waters meet adrenaline-pumping watersports. This watersports school trip to Spain is a curated experience, featuring activities such as windsurfing, snorkeling, and sailing, all under the guidance of seasoned instructors. 
However, the adventure doesn't end there. Cultural excursions may also immerse students in the vibrant Catalan lifestyle, offering a holistic experience that goes beyond skill development. Platja d'Aro is not just a destination, it's a transformative journey where sun, sea, and skill converge to create lasting memories for your pupils.
Watersports school trips to the Ardèche, the gorge-ous gem of France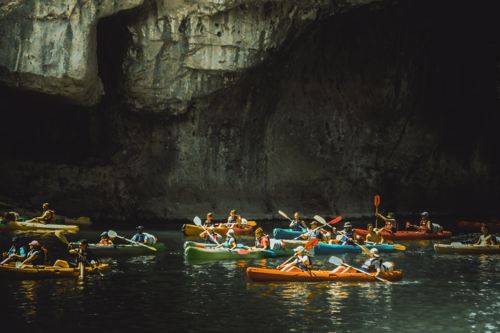 Recommended age group: itinerary can be adapted for 10–18 year olds

Trip duration: 9 days, 6 nights (includes 2 days of travel)

Price: please enquire
Venture into the heart of one of France's most beautiful regions on this watersports school trip, where the Ardèche region unfolds as an expansive outdoor classroom and aquatic playground. This watersports school trip to France is a unique one, set amid stunning natural landscapes including the stunning Pont d'Arc – a natural bridge over the Ardèche river – which is a popular site for kayaking and canoeing.
As they navigate the meandering river, students not only enhance their teamwork and resilience but also foster a profound connection with nature. This trip also extends beyond the riverbanks, with excursions to local caves and gorges available, creating an immersive experience that seamlessly weaves together nature, watersports, and outdoor education.
Ready for an action-packed watersports trip?
Our watersports school trips to Cornwall, Platja d'Aro, and the Ardèche region promise an unparalleled blend of adventure, education, and cultural exploration. By choosing to travel with Equity, schools can provide students with transformative experiences that go beyond the classroom, fostering teamwork, resilience, and a deep appreciation for the world around them.
Contact us today to customise the perfect watersports school trip that will leave lasting memories for your students, by calling us on 01273 648248. Alternatively, you can also fill out our webform, and our school trip experts will get back to you as soon as we can.